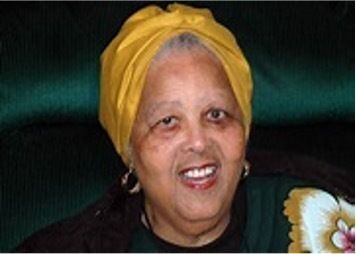 Louis Bennett-Coverley was born on September 7, 1919, on North Street in Kingston, Jamaica, and died on July 26, 2006, in Canada, at age 86. "Miss Lou," as she was lovingly called, wrote numerous creative works throughout her long and storied career. "In 1960, she was made a Member of the British Empire (MBE) for work in Jamaican literature and theatre. The Government of Jamaica honoured her with the insignia of Order of Jamaica in 1974. She was also awarded the Norman Manley Award for Excellence in the field of the Arts; the Institute of Jamaica's Gold Musgrave Medal; and the honorary degree of Doctor of Letters by the UWI in 1982." In 1945, Bennett was the first black student to study at London's Royal Academy of Dramatic Art (RADA) after being awarded a scholarship from the British Council.
Jocelyn Y. Stewart wrote in a 2006 Los Angeles Times article: "A young Harry Belafonte was preparing his repertoire of Caribbean songs in the 1950s and looking for expert input when he sought out Louise Simone Bennett-Coverly, known affectionately as Miss Lou and hailed as the mother of Jamaican culture. Later Belafonte and songwriter Irving Burgie made word adjustments so the music would be understandable to an American audience. "Calypso," the album on which the song "Day-O" appeared, was the first by a single artist to sell a million copies and helped create a global audience for Caribbean music. Later forms of island music, including reggae, offered a purer form of the language. "She was the one who broke the barriers and made the way for Bob Marley's singing in patois," said Frankie Campbell of the Fab 5, a Jamaican band. "All the Jamaican stories and proverbs you hear in Bob Marley's music ... they were kept alive by people like Miss Lou."
Stewart continued, "As a teenager, [Bennett-Coverly] wrote poetry in standard English, until an experience on a public bus when she was 13 changed her views. In her search for a seat, Bennett-Coverly ended up in the section reserved for the women who sold goods in the marketplace and carried large baskets. It was then that Bennett-Coverly heard one market woman say to another: " 'pread out yu'self" (spread out yourself), Bennett-Coverly recalled in a 2003 Inter Press Service news agency article. The move was intended to prevent the well-dressed school girl from sitting in their section. But Bennett-Coverly focused on the patois, the blend of English with African language elements, and how the woman used it." In all, Miss Lou, writing and performing her poems in Jamaican Patois or Creole, worked tirelessly to preserve the practice of presenting poetry, folk songs, and stories in patois. She was a national treasure!
"Jamaican poet, folklorist and educator Louise 'Miss Lou' Bennett-Coverley honoured on September 7, 2022 with a dedicated Google Doodle on what would have been her 103rd birthday."