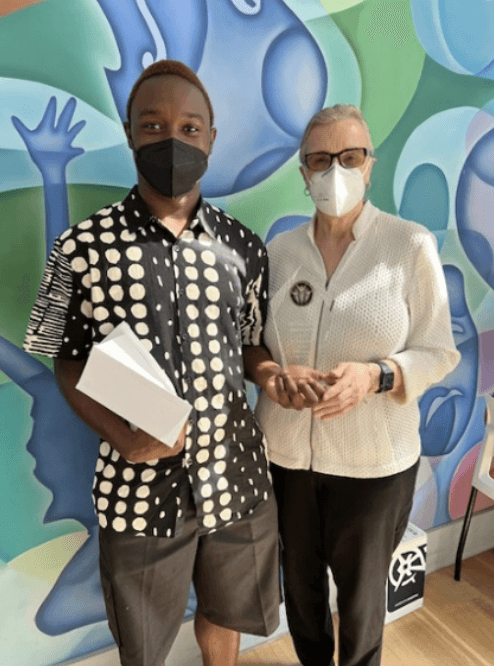 We are also pleased to share news about our first TPFF Pearl Fraser Memorial Merit Scholarship Award, presented to Omarion Burke, an alumnus of our DIH program.
On August 8, 2022, Linda C. Lombardi, TPFF COO/Treasurer, awarded the first Pearl Fraser Memorial Merit Scholarship to Omarion Burke. He was given a crystal trophy and a check in the amount of $2,000.00 for academic and performance excellence. Omarion is a rising star whose relationship with TPFF began in 2018 when he participated in our inaugural Dance is Healing (DIH) workshop, offered at Mind-Builders Creative Arts Center in the Bronx. He was spotted as an exceptional dancer by our COO/Treasurer, Linda C. Lombardi as well as our Chief Artistic Officer, Paige Fraser-Hoffman. Since we first met Omarion, he has danced with the Harlem Dance School of the Arts, the Ailey School and recently graduated from the Professional Performing Arts School in 2022.
Omarion's acceptance into the Julliard School of Performing Arts' Freshman Class of 2026 is a true testament of his artistic abilities and promise as earned by hard work and resilience. Juilliard, a premier arts institution, with just 588 undergraduates has a 7% acceptance rate! In recognition of these qualities, ones that reflect TPFF's mission to support rising stars in the performing arts, we hope that this financial assistance will aid in his continuing growth.